STORIES OF IMPACT
ACCELERATE2030 Blog
WELCOME TO OUR BLOG
Accelerate2030 is excited to introduce "Stories of Impact," a blog series documenting the impact of the Accelerate2030 program.
 Accelerate2030 is a programme co-initiated by Impact Hub and United Nations Development Programme (UNDP) designed to sustainably scale the impacts of entrepreneurial solutions to the Sustainable Development Goals. Check back often for updates on this exciting series!
Below are series of blogs abour our partnerships and collaborations throughout Geneva and beyond.
Partners are crucial for Accelerate2030. Evgeniy Akulich from consulting company BCG, one of Accelerate2030 program's most important partners, tells about BCG's experience on the collaboration.
read more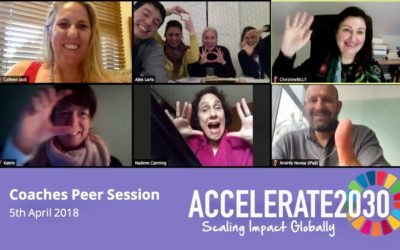 Nine social entrepreneurs from around the world were selected to participate in the 2017/18 edition. Having witnessed the difficulty entrepreneurs face in handling workload and the diversity of skills and knowledge they need to rapidly acquire, the A2030 program coordinators decided to expand the leadership and resilience pillar of the program and pilot the introduction of a personal coaching component.
read more
Below are series of blogs abour our Accelerate2030 ventures around the world.
No Results Found
The page you requested could not be found. Try refining your search, or use the navigation above to locate the post.