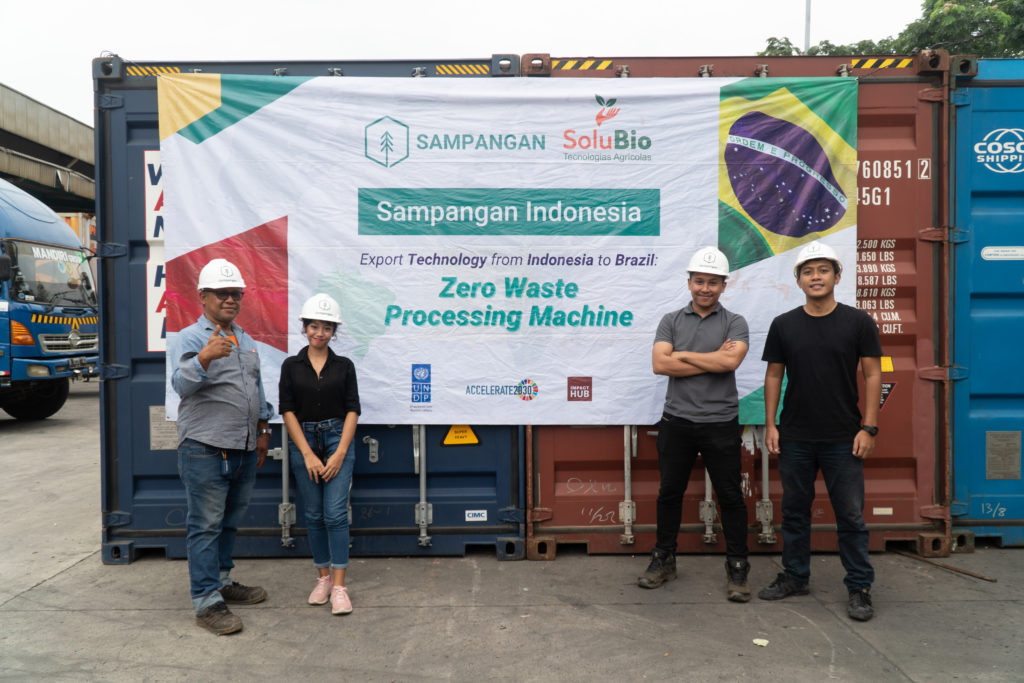 Established jointly by Impact Hub and UNDP Geneva in 2016, Accelerate2030 connects entrepreneurs who are creating solutions to achieve the SDGs to the resources and opportunities they need to scale their impact. The program facilitates connection to the Geneva ecosystem and major players in the development and business world, but also encourages – and provides opportunities for – entrepreneurs to connect, create peer partnerships, and work together to scale and access new markets.
One of such successful connections is the partnership between Accelerate2030 3rd edition Global Finalists Sampangan (Indonesia) and Solubio (Brazil). After being connected in Geneva during Global Scaling Week, the companies saw the opportunity to embark upon an exciting joint-venture in Brazil with the mission to reduce CO2 emissions and move towards more sustainable agricultural practices.

The ventures decided to partner up to use Sampangan's cutting-edge 0-waste carbonization technology – complementary to Solubio's technologies – to convert waste into producing activated carbon, bio-fertilizers, bio-pesticides, and circular economy solutions for regenerative farming in Latin America.
Muhammad Fauzal Rizki, Chief Executive Officer of Sampangan Indonesia

"Sampangan technology converts all kinds of unsorted waste into higher value materials for circular economy, including but not limited to agriculture industry. "The Magic Box" is a waste processing machine with zero-emission using carbonization technology. Our Magic Box is a modular system that has the capacity of processing up to 10 tons of waste per day and can be scaled up easily depending on volume of waste needed processing. The system is plug and play which only requires 1-2 weeks of installation, and it requires low cost of operation in terms of manpower, maintenance, and electricity."
In March 2020 Fauzal CEO and Founder of Sampangan visited Brazil, hosted by Solubio – "I was introduced to the local ecosystem, partners and local government in Jatias City, Rio Verde. We visited landfills and saw that the landfill situation, problems, and challenges were very similar to those we were creating solutions for in Indonesia, so we could replicate our solutions to help the challenges in Brazil".
In the last year, both teams spent months coordinating intensely on a weekly basis to coordinate the shipment of the Sampangan technology to Brazil. The technology – which arrived in Brazil in June – will be integrated with Solubio's existing technology to Sampangan Agriculture Solution will potentially be applied for Solubio's 2 million hectare plantation, which consists of corn, soybean, and sugarcane.
Learn more about Accelerate2030 at www.accelerate2030.net