Since 2016 UNDP Venezuela and the Impact Hub Caracas have cultivated a solid relationship. Their partnership began in the first edition of the Accelerate2030 program, bringing these two neighbours who were physically located in the same building to finally meet with one another.
Silvia Orozco (UNDP Venezuela):

"The relationship between the Impact Hub and UNDP Venezuela is very close and strong and we are continuously formalizing our partnership. We are very proud of the Accelerate2030 Venezuelan 2019 Global Finalist, AgroCognitive."
Maria Alejandra (Impact Hub Caracas):

"Since the beginning of Accelerate2030, UNDP has been one of our main partners, and from the very first moment we have had a good relationship with them. They were always very collaborative, responsive and supportive."
Introducing a Third Partner: Total SE.
Quickly, the partnership of the two stakeholders was complemented by a third entity: the French multinational company Total SE. UNDP Venezuela and Impact Hub Caracas' partnership would not be what it is today without their strong triangular partnership with this corporate partner, working to jointly advance matters of gender, youth, and social innovation. 
The unique combination of the well known international organization UNDP, as well as the reputation of an impact-driven, agile, regional entity such as the Impact Hub helped to effectively mobilize the resources of a corporation such as Total SE. In 2017, Total SE sponsored the National Scale-Ready program for the three Accelerate2030 national finalists: Eposak, Trazando Espacios and Cuidador Express. This was organized by Impact Hub Caracas and UNDP Venezuela in order to contribute to the growth process and international scaling of these projects.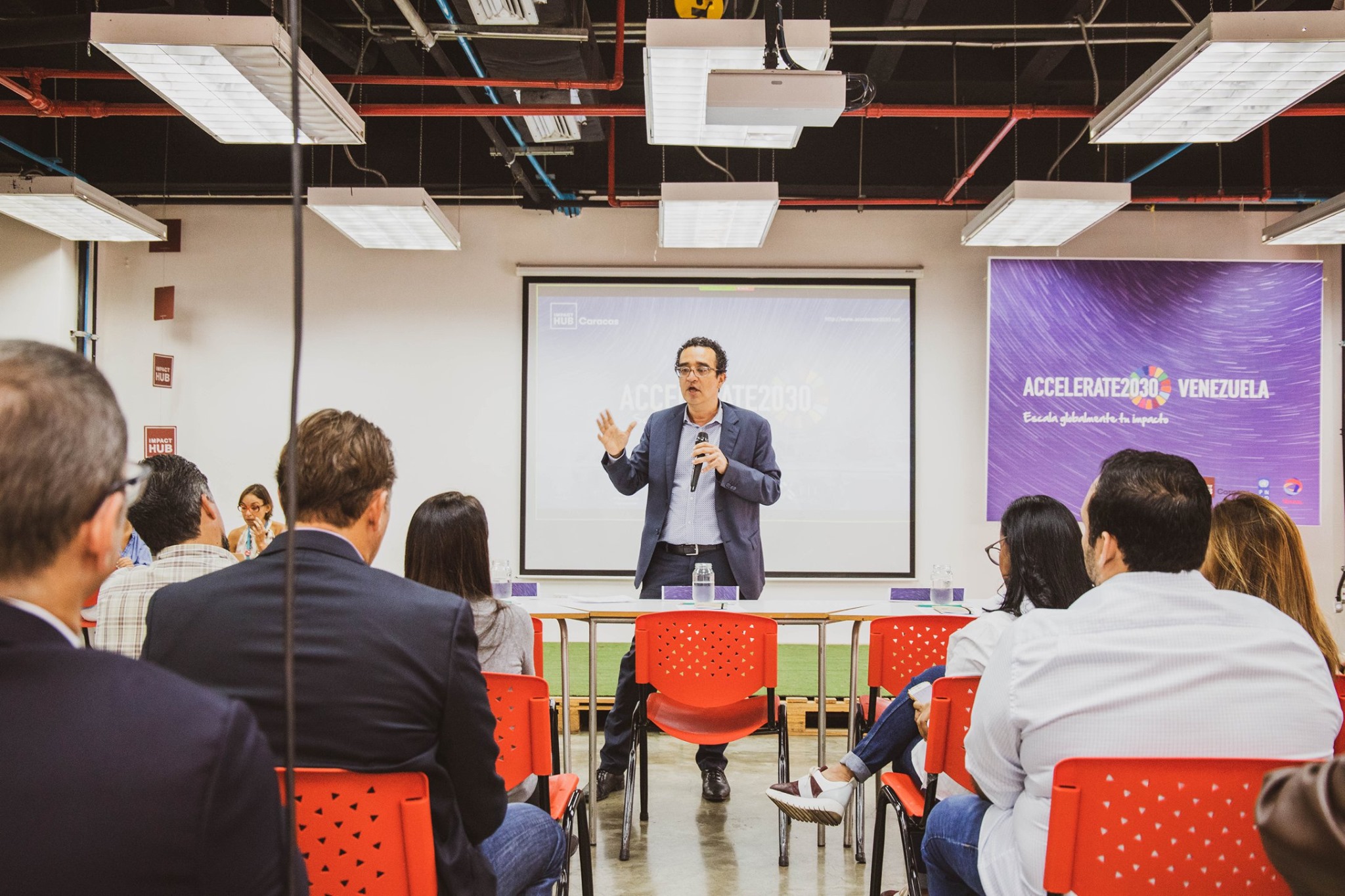 Maria Teresa Abogado (UNDP Venezuela):

"Working closely from the beginning has been the best added value we have had in this relationship. Our motive on both sides is to disseminate the 2030 Agenda and more than disseminate it, to put it into practice. For us, as UNDP Venezuela, it is important to make visible that the 2030 Agenda is not only a document, but also something that any citizen can put into practice. This is something that we are achieving through the partnership with the Impact Hub Caracas. We have created meaningful synergies, on the basis of an alignment of common interests and goals."
Mobilizing partnerships and funds for impact – through & beyond A2030
According to Maria Teresa Abogado (UNDP Venezuela, Country Officer) and Silvia Orozco (UNDP Venezuela, Communications) the UNDP can play a crucial role in jointly raising funds for their different collaborative projects with the Impact Hub. Not only have these funds served Accelerate2030, but they have also served other programs that go beyond their multistakeholder program. A great example of this is the youth-participation program 'Technovation girls', which was also funded by the partner Total SE in Venezuela, with a special focus on the inclusion of youth in finding innovative solutions for the national implementation of the 2030 Agenda.
Maria Teresa Abogado (UNDP Venezuela): 

Mobilizing funds jointly is a win-win-scenario and the Venezuelan case proves this. A joint resource mobilization will allow [us] to design a regional resource mobilization strategy, including a diverse range of actors from the private sector. There are many interested actors with the financial capacity to support the A2030 program not only in one single country, but cross-nationally. Also, there are regionally relevant themes, for which I see a potential that can be further developed.
Maintaining an organic relationship aligned with the SDGs, similar strategic focusses, aligned goals, agendas, and priorities, seem to be the secret ingredients of the UNDP-Impact Hub relationship in Venezuela. Concentrating on mutual needs as well as specific objectives has allowed for the showcasing of their collective strengths, and has taken maximum advantage of each partner's potential.